Spicy Seasoning Recipes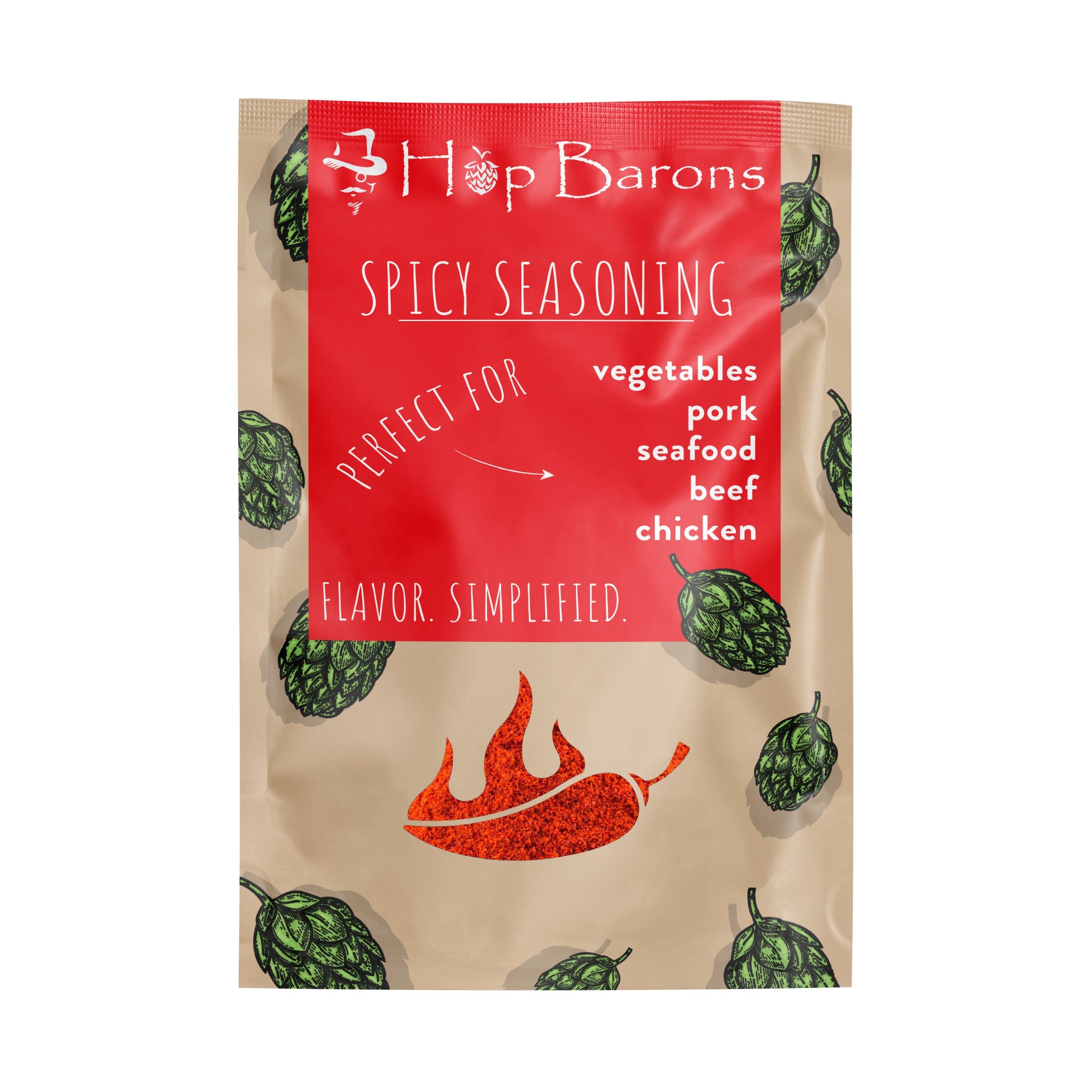 Spicy Buffalo Chicken Dip

This creamy and flavorful dip is the perfect appetizer for any occasion, from game day parties to family gatherings. The combination of buffalo sauce, ranch dressing, sour cream, and cream cheese creates a creamy and tangy base for the shredded chicken. The addition of Hop Barons Spicy Seasoning gives the dip a smoky and slightly spicy flavor that pairs perfectly with the buffalo sauce. The melted cheddar cheese on top adds a gooey and satisfying texture to every bite. This dip is easy to prepare and can be made ahead of time, making it a great option for entertaining. Serve it with tortilla chips, celery sticks, or your favorite dipping vehicle and watch it disappear in no time!

Yield: 8 Servings

| | |
| --- | --- |
| 2 cups shredded cooked chicken | 1/2 cup sour cream |
| 8 oz cream cheese; softened | 1/2 pack Hop Barons Spicy Seasoning |
| 1/2 cup buffalo sauce | 1 cup shredded cheddar cheese |
| 1/2 cup ranch dressing | Optional: sliced scallions for garnish |
Spicy Deviled Eggs

These deviled eggs are a twist on the classic appetizer, with the addition of Hop Barons Spicy BBQ Rub & Seasoning. The seasoning gives the filling a slightly smoky, slightly spicy flavor that pairs perfectly with the creamy egg yolks. The Dijon mustard and white vinegar add a tangy kick, while the mayonnaise provides richness and creaminess. These deviled eggs are easy to make and perfect for any occasion, from picnics and potlucks to cocktail parties and game day gatherings. The sliced scallions or chives add a fresh, colorful touch to the presentation. Give this recipe a try and impress your guests with these delicious, flavorful deviled eggs!

Yield: 12 Servings

12 large eggs
1 packet Hop Barons Spicy Seasoning (saving
2 T for garnish)
1/2 cup mayonnaise
Salt and pepper; to taste
2 teaspoon Dijon mustard
Optional: sliced scallions or chives for garnish
1 teaspoon white vinegar
Sweet & (very) Spicy Buffalo Sauce

It is a spicy and tangy buffalo sauce made with Crystal Hot Sauce, orange juice, unsalted butter, Hop Barons Spicy Seasoning, honey, and orange juice. The combination of honey and orange juice provides a touch of sweetness to balance the spiciness of the hot sauce and the smokiness of the seasoning. Overall, it is a delicious sauce that can be used to add flavor and heat to a variety of dishes, such as buffalo wings, chicken tenders, or roasted vegetables.

Ingredients

1 cup honey
1 packet Hop Barons Spicy Seasoning
1/2 cup hot sauce
4 tbsp unsalted butter
1/2 cup ketchup

Preparation

In a small saucepan, combine honey, hot sauce, ketchup, and Hop Barons Spicy Seasoning. Heat over medium heat, stirring frequently, until the mixture begins to simmer.

Reduce heat to low and let the sauce simmer for 5-7 minutes, stirring occasionally, until it thickens slightly.

Remove the saucepan from heat and stir in the butter until it melts and fully incorporates.

Let the sauce cool to room temperature before using it as a glaze or dipping sauce for wings.
Spicy Tofu Salad

This vegan salad is a delicious twist on the classic egg salad, with crispy tofu cubes seasoned with Hop Barons Spicy Seasoning. The tofu provides a satisfying texture, while the mayonnaise and green onions add a creamy and tangy flavor. This salad is perfect as a side dish or as a filling for a sandwich, and it's a great option for those who are looking for a plant-based alternative to traditional egg salad. The Spicy Tofu Salad is easy to make, flavorful, and packed with protein, making it a perfect addition to any meal or occasion.

Yield: 4 Servings

Ingredients

| | |
| --- | --- |
| 2 blocks of firm or extra-firm tofu; drained and pressed | 2 green onions; chopped |
| 1/2 cup mayonnaise | 1/2 tsp salt |
| 1 packet Hop Barons spicy seasoning | 1/2 tsp black pepper |

Preparation

Preheat the oven to 400°F. Cut the tofu into small cubes and place them on a baking sheet lined with parchment paper.

Sprinkle 3 T Hop Barons Spicy Seasoning over the tofu cubes, and toss them to coat evenly. Bake in the preheated oven for 20-25 minutes, or until golden brown and crispy.

In a medium mixing bowl, combine the remaining Hop Barons Spicy Seasoning, mayonnaise, chopped green onions, salt, and black pepper. Mix well until all ingredients are fully combined.

Once the tofu is done baking, let it cool for a few minutes before adding it to the mixing bowl with the other ingredients. Gently fold the tofu into the mayonnaise mixture until it is fully coated.

Serve the vegan tofu "egg" salad chilled, either as a side dish or as a sandwich filling. Enjoy!
Spicy Bloody Mary

Indulge in the ultimate Bloody Mary experience with the Hop Barons Spicy Bloody Mary Extravaganza. This cocktail is a delightful blend of bold flavors, featuring the distinctive kick of Hop Barons Spicy Seasoning paired with classic Bloody Mary elements. What sets this drink apart is the lavish array of garnishes, turning it into a visually stunning and customizable masterpiece.

Ingredients

| | |
| --- | --- |
| 2 cups vodka | Pickle spears |
| 4 cups tomato juice | Cherry tomatoes |
| 1 packet (about 1 oz) Hop Barons Spicy Seasoning | Pickled jalapeños |
| 1/4 cup fresh lemon juice | Green olives |
| 2 tablespoons Worcestershire sauce | Lemon wedges |
| 1 tablespoon hot sauce (adjust to taste) | Lime wedges |
| Ice cubes | Cucumber slices |
| Garnishes: | Bacon strips |
| Celery stalks | Sprigs of fresh cilantro |

Preparation

1. Mix the Spicy Bloody Mary Base: In a large pitcher, combine vodka, tomato juice, Hop Barons Spicy Seasoning, fresh lemon juice, Worcestershire sauce, and hot sauce. Stir well to ensure the seasoning is fully incorporated.

2. Chill the Mixture: Refrigerate the mixture for at least 1 hour to allow the flavors to meld and the mixture to chill.

3. Rim Glasses (Optional): Optionally, moisten the rims of individual glasses with a lemon wedge and coat them with Hop Barons Spicy Seasoning.

4. Serve: Fill glasses with ice cubes and pour the Spicy Bloody Mary mixture over the ice.

5. Garnish Each Glass: Skewer and arrange the garnishes in each glass, creating a visually appealing display.

6. Adjust Seasoning: Encourage guests to stir and mix the drink to their liking. Additionally, provide extra hot sauce or Hop Barons Spicy Seasoning for those who want to amp up the heat.
Pull-Apart Pizza Bread with a Kick

Elevate your pizza night with a kick of heat and a burst of flavor in this Spicy Pull-Apart Pizza Bread featuring Hop Barons Spicy Seasoning. With a dynamic blend of brown sugar, Himalayan salt, paprika, garlic powder, habanero powder, and more, each bite promises an explosion of savory and spicy goodness. This recipe is perfect for those who crave a bold and fiery twist on a classic favorite

Ingredients

| | |
| --- | --- |
| 1 package (16 ounces) pizza dough | 1 cup shredded mozzarella cheese |
| 1/4 cup unsalted butter; melted | 1/2 cup grated Parmesan cheese |
| 1 packet (1.5 ounces) Hop Barons Spicy Seasoning | 1/2 cup pizza sauce; for dipping |

Preparation

Preheat your oven to the temperature specified on the pizza dough package.
Roll out the pizza dough on a floured surface into a large rectangle.
In a small bowl, mix the melted butter and the entire packet of Hop Barons Spicy Seasoning. Adjust the quantity of the seasoning to your spice preference.
Brush the spicy butter mixture over the entire surface of the dough, ensuring an even coating.
Sprinkle the shredded mozzarella cheese evenly over the spiced dough.
Optionally, add a layer of grated Parmesan cheese on top of the mozzarella for extra flavor.
Cut the dough into small squares or rectangles.
Stack the squares or rectangles on top of each other, creating a layered effect.
Place the layered dough into a greased baking dish.
Bake in the preheated oven until the bread is golden brown and the cheese is melted and bubbly.
While the bread is baking, heat the pizza sauce.

Serve the spicy pull-apart pizza bread warm, with a side of heated pizza sauce for dipping.